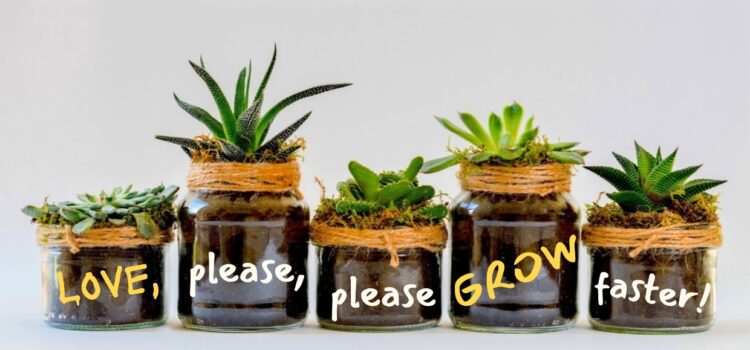 Innovation is definitely a buzzword which draw's almost everyone's attention. Nonetheless, as we see each day that passes, it comes with good and bad things and that's obvious. To me, valuable innovation actually improves the quality of life without posing any kind of threat. That's the case with home planting innovative devices. They provide us with the chance to grow our own mint, salad, garlic or flowers in places we never thought possible. In a way, such devices help us enjoy a healthy passion and that's when innovation becomes magic.
I am a big fan of home planting. I simply love watching my greens grow before my own eyes. If you are also one of those people enjoying to grow your own plants, for sure you are familiar with all the challenges that come along:
How often should I water the tulips? And what about the sage?
My apartment is small and I wish I could grow some
My plants do not benefit enough natural light
Who's going to take care of my plants while I am off to my dream trip
And so on …
Why home planting matters …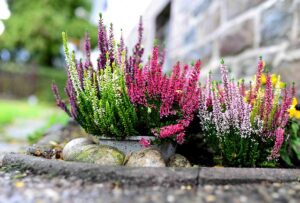 Indoor plants don't just look good, they make us feel good mentally, emotionally and physically, too.
According to Pico team, research shows up to 60% reduction in depression, over 40% in anger, and just under 40% in anxiety. And at work, plants have increased the productivity of the office by up to 15%!
Generally speaking, whether is home planting, gardening, spending time in nature or simply having plants around you, the benefits are numerous. Here are some examples I got from trusted and carefully selected sources:
Stress relief, relaxation & better mental health – Simply being around plants has also calming effect and they can brighten up your surroundings; they can lift your mood. Some studies suggest that lavender may help calm you and help lower any anxiety. According to WebMD, plants may help raise your test scores, make it easier to concentrate on your tasks. They also strengthen your memory. Students in classrooms with three potted plants performed better on math, spelling, reading, and science tests than kids in classrooms without any greens. Employees who work in offices with plants tend to feel better about their jobs, worry less, and take fewer sick days.
Better physical and emotional health – the list of health benefits brought by plants is long, but here are some examples:

Some therapists use gardening to help treat depression, schizophrenia, and other psychiatric conditions
Researchers found that people who had surgery got better faster if they had plants in their room or even a view of the nature from their window
Aloe and garlic extracts are just two of the plants heavily used in treating various diseases
Mint doesn't just add flavour to a good cocktail; it may help tamp down bloating, gas, and other problems after you eat. Basil can also help calm your stomach.

Allergy relief – Rooms with plants have less dust and mold than rooms without any foliage
Air purifier & moisturiser – specific plants soak the pollutants generated by carpets, paint, cleaners, printer toners, inks, and many other indoor objects; one study found a collection of spider plants boosted the relative humidity in a bedroom from 20% to a more comfortable 30%
And that's just the tip of the iceberg! Therefore, we follow the innovators in the home planting or home gardening industry. I thought it would be useful to tell you a few words about the kind of magic some startups do in the way they use technology.
Pico – A garden in your palm. Growing is fun again!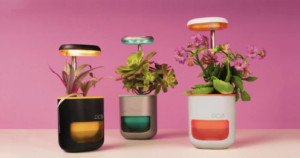 I shall start with Pico just because as we speak I am waiting for my own 3 set planter. I chose Altifarm's Pico for one simple reason. It's a great choice for plant enthusiasts with little gardening experience.
PICO – Grow thriving plants everywhere—with telescopic LED grow lights, multiple mounts, and a self-watering system. Anyone can do it!
Simply put, Pico is like a pocket-size planter that can fit anywhere, even as a magnet on your fridge or decor on your bedroom wall. Whether it's a cactus, parsley or tulip, the plant growing in it will thrive due to the telescopic LED growing lights and built-in self-watering system. The transparent window on the container lets you see when you need to add water. Such a generous promise got my attention, so las year I took my pledge on Pico's Kickstarter page.  Shipping started in September, so I cannot wait to get it. You can Pico's Instagram account so see some cool ideas. Or take your own pledge on Indiegogo!
Herbstation – The easiest way to grow at home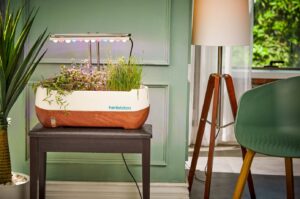 Herbstation also comes from Altfifarm! It's is an easy to use hydro home hardening system. I would say is a better choice for home plant lovers who want more than a smart pot! You do not need gardening experience or acquire extensive plant growing knowledge because of Herbstation is mobile, stackable, self-watering, soil support. Thanks to the root aeration and LED grow lights, your plants grow faster and healthier. You just need to water your plants about three times a month.
The Herbstation seems to be a great choice for those more also great for growing microgreens (also known as a superfood), known for containing up to 40 times more nutrients than the mature leaves counterparts. There are three Herbstation versions you can choose from, depending on your needs – countertop, wall-mounted or floor standing.
Grow Jar – Indoor Herb Gardens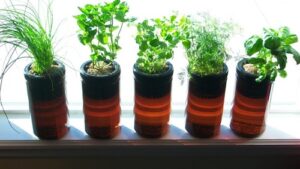 The Grow Jar comes with a different approach and other promises! First of all, it's made of from 100% recycled plastic. Secondly, the small indoor planter allows you to see how plants' roots grow. So, you know when to top up the water. It's a simple hydroponic system which needs minimal space and water. Thirdly, no soil, power or pesticides are required.
Last, but not least important, the brown colour of the jar acts as a UV barrier blocking harmful rays and preventing algae from growing inside.
Terraplanter – A new home for plants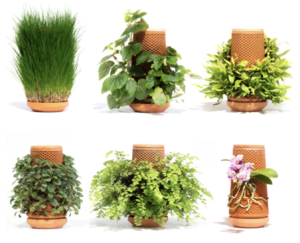 Plant lovers and believers in "nature-inspired technology", three founders came up with Terraplanter, an "inside-out planter for growing plants indoors".  They wanted to reimagine the centuries-old planter and did it by combining the idea of hydroponics and the concept of porous material. They successfully created a "proprietary ceramic material that has just the right amount of porosity and hygroscopic tendencies to allow water to diffuse through the material and allow the plant to grow on the surface of the material".
One special remark regarding Terraplanter – it gives your four ways to grow the plants. You can rub spores on to the surface, or cover it with seeds of your choice. Also, you can use rubber bands to climb the plant roots or wrap a climbing plant around the terraplanter.  It's classy, stylish and it looks amazing!
The Grove Ecosystem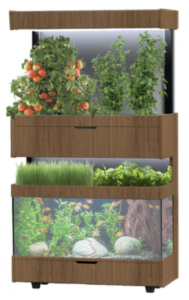 You will love this one, even more, if your plan to take care of some funky fishes! The Grove Ecosystem is more of the natural ecosystem thriving in your own home. And who else if not smart MIT engineers could have built it?
It's an aquaponic system consists of a 25-gallon fish tank in which the fish process the food they are fed. The ammonia-rich waste they produce is converted to nitrates by the microbes living in the tank. The nitrates which are great organic plant fertilizer rise to where the plants are, thus supplying them with the nutrients to grow. There are fans, pumps, and lights that adapt according to readings from water level sensors, as well as humidity, water, and air temperature readings. Grove comes with a mobile app which guides you through the entire process.
Click & Grow – The smart indoor garden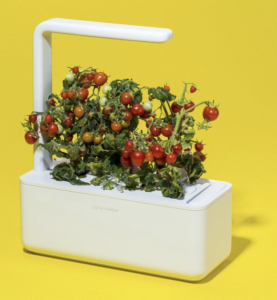 Inspired by NASA technology, Click & Grow Smart Garden is one great choice for those more demanding plant lovers with high expectations. Smart Gardens make it possible to grow plants 365 days a year in even the busiest households. They take care of watering, light and nutrients. The Smart Soil used releases nutrients in sync with the plant life cycle and keeps soil pH balanced. It also employs tiny oxygen pockets to make sure plants get ample breathing room and nutrients even when the soil is wet. There are no chemicals or harmful substances involved! The adjustable LED lamp furnishes plants with enhanced light spectra that spurs growth.
In terms of plants pods, there are plenty of choices, from greens, herbs to flowers and fruits. You can also have a subscription for plant pods. It's hassle-free home delivery! And it enables you to save up to 50% compared to buying plant pods separately.  And, of course, Click & Grow comes with a mobile app and big community of home planting passionate people.
Herbert – The living green canvas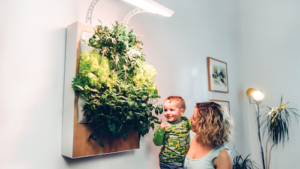 Herbert is something else, I would say, but it is worth mentioning it. It's like a living canvas. It is a vertical hydroponic garden finished in beechwood or poplar.
"It's indoor farming made elegant". It is clean, space-saving, beautiful, and 40% more efficient than conventional farming techniques. Herbert also comes with an app that guides you through the growing process. It serves as a remote to adjust light settings to suit your needs.
Last-minute good news for home planting addicts!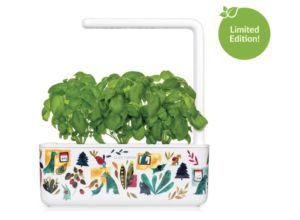 … and if you or not sure whether to chose Pico or Herbstation, don't worry! Altifarm just announced last week that those who bought Herbstation will be rewarded with a wonderful PICO! The official announcement made on September 28, says that "All you need to do is nothing- just confirm the shipping address here – that's all."
For those who would love even more colours, Click & Go now offers The Smart Garden 3 limited edition! You can now order on their website. It comes with 1 Year Hassle-Free Warranty and it can be delivered (almost) everywhere in the world.
Good luck to you with your choice of home planting! We shall keep you posted with our own PICO story!
Home Planting – 7 Innovative Indoor Gardening Solutions