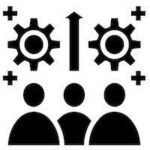 Building a digital team is one of the most challenging tasks for any organization regardless of its size. On the Romanian local market, this is even far harder. 
The number of aspects that need to be considered when starting or growing a digital team. Let's take some examples: 
What type of skills set we need?
What are the job profiles and job positions to be considered?  
Realistic job descriptions?
What about the expertise level? Junior, Mid-experienced or Senior people?
Is there a way our current team can learn specific digital skills?  
And what about the budget?
Which job roles should or should not be included initially in the digital department organizational chart?
What skills are worth hiring internally? Should we look for an external partner?
Who's going to actually test or verify the candidates' technical knowledge?
And this is just the beginning of a significantly long list of decision-makers' question list. With the risk of being presumptuous …
Very often digital capabilities and knowledge are almost non-existent or just in its infancy in a company.

The market supply for truly digital specialists is low and, as we have seen many times, the real-life work experience and CV does not always match

Internal HR team members do not have an in-depth understanding of how such a department structure should look like or what kind of specialists to look for. 
And this is nothing compared with the challenge of correctly positioning "the digital within the organization" or trying to change "the ways of how things are done" before tech and Internet appeared. Does it sound familiar?! 
Fact is it's no secret! Sooner or later digital disruption affects all industries, companies and brands. The reluctant to change players, even the big ones, did not survive. Other such players are bearly struggling to live another year.
Digital disruption is here to stay …
Naturally, one question rises. Who are the winners? Our answer to this question is simple. There are two types of winners. The early adopters, those traditional companies lead by people who realized that no one escapes change even though everybody hates it. They are the cool and relevant brands, the ones millennials are most likely to like and engage with. With great effort and persistence, these companies succeed to integrate—in various degrees, digital in their DNA. And, of course, there are the other winners, the unicorns, the startups we love and admire. They are what we call digitally-born companies that came to life because of one or more daring entrepreneurs with "crazy ideas". All things considered, no matter to which category you resonate with, there's always room for improvement as long as you are willing to adapt and change.  
What You Need to Know
Digital Team & Capabilities
Here are a few things you should master when thinking of building your digital team:
Digital team-building essentials

—

organizational structure, job descriptions, recruitment, budget, and long-term team growth strategy

KPIs & team activity monitoring

Adapting your existing internal processes to the new digital requirements

How to integrate digital in your business DNA (create a digitally-oriented company culture)

Consulting on team training needs and professional development 

Customized training for specific digital knowledge areas of expertise

Outsourcing dilemma — Is it worth outsourcing or hire internally?! Grow an internal team or hire outside expertise?!  

Building the digital budget
Truth to be told, there are ideal best-case scenarios for a growing a great digital team, yet the internal reality of the company generally may not be quite supportive of this. Therefore, top management should have a second-best scenario for growing a digital team. A scenario that fits the internal realities of the company. Plus, great management skills during such implementation projects are mandatory!
These topics may sound familiar or not, yet if you feel there is more you need to know or understand, we can help you out. 
Additional Services @ Business Booster
If your problem is not directly related to your digital team structure or capabilities, you can also check out the following: 
Or just talk to Ana Maria Bogdan, she will know what to do!