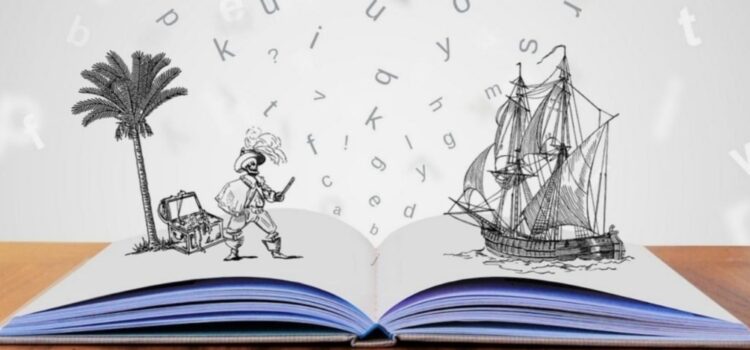 I shall start today's content story with a short reminder. Great user experiences are created through branding, content, functionality and usability. What we fail to realize is that when neglecting content, the chances to have a successful digital project decrease dramatically. This content story explains to you why this happens and what you can do to avoid such situations.
Many digital projects fail not because of the technological challenges, but because they treat content as an afterthought and not as a critical component with a huge impact on the overall business results. This article is addressed to all FOCS (aka Friends of Content Strategy), whether they are digital specialists, marketers, or people passionate about content. It's just an introductory thought on the importance of content in the context of digital projects.
Content—the lifeblood of the organization
For many years, businesses regardless of their size tried to turn digital channels in a revenue stream. Some have been really successful while others have failed brilliantly despite making huge technological platform investments. What made the difference?
In one word, understanding. First is pure and simple understanding of how complex digital projects should be managed, from the birth of the business idea to actual launch, and what are the critical success factors. Second, but not least important, is understanding what it takes to provide great experiences for the users. These are created through branding, functionality, usability and content. While the first three components are usually managed much easier by the agencies, content's responsibility goes mainly to the client and here things can get messy and complicated.
In the past years, an evident lack of concern and accurate appreciation of the complex organizational effort for defining, creating, publishing and maintenance of the content caused most of the failures I've seen. Website launches were delayed or postponed because the wireframes did not accommodate content requirements and had to be redone, or because getting the content online took even more than 5 months than initially estimated (if ever).
Content's responsibility goes to the Client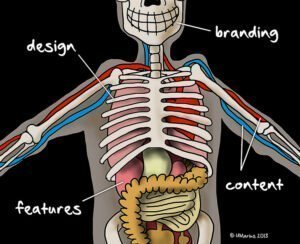 To use a simple analogy, imagine that your technical platform is the body: that complex structure of bones and body parts kept together by joints, muscles, and skin. These elements are represented by a whole bunch of internal and external procedures that allow cross-departmental or third-party integration (e.g. ERP, CMS etc.) and ultimately let customer acquire your products. If you look closer, you'll immediately realize that there's something essential missing, without which your business cannot function at all: a cardiovascular system pumping blood to all parts of the body.
As you know, content is the lifeblood of the organization, but do not forget that content is a complex, political and emotional topic for many stakeholders… and they can keep or stop the blood from flowing.
For your online business, content is that system. It's the lifeblood of your organization. When most digital initiatives fail, it's because they treated content as an afterthought, ignoring the fact that content can make or break your users' online experience.
When poorly managed, content is very expensive
Often, people in various operational areas try to invest in creating content by working alone. Consequently, duplicated information, errors, and inconsistencies in the content provided to your customers create confusion, frustration and harm the entire customer experience. Just imagine what neglecting your customers' opinion posted online or your partner's improper communication of your product portfolio can do to your brand.
When content fails to provide customers with accurate and relevant information, you are guaranteed bad customer experiences. And latter mistakes are very costly even though you don't measure it. They increase support costs and damage brand loyalty, which translates into lost sales.
Content is not a feature, is your product
Without content, your product or service does not exist. Content helps you describe what your products do to make your customers' lives easier. It shows the actual benefits, proves functionalities, and, most importantly, it allows your potential customers to compare them with your competition's offline or online offer.
Content takes all shapes, formats and sizes: articles, product sheets, pictures, videos, FAQs, in-line help texts, comments posted on social media, etc. It's everything your colleagues across organization, partners, and customers create related to actual products or services the organization provides.
Contextual, useful and well-written content, associated with specific online functionalities, tools, customer support initiatives and different sales incentives enable companies to generate profit. Think of a software product you download and use for free a limited period of time. Or an application which allows users to personalize their cars by adding various features. Or an augmented reality application for real-estate businesses, which show your clients the monthly loan rates offered by various banks for that particular house.
Online content will never take care of itself. It's a complex, ever-evolving, intricate body of information that requires ongoing care and feeding, and you and your colleagues must take reasonability for. It's not something you can check off on a list and be done with. Always remember that online content is never really finished. Once it's out there, it has a life of its own and your customers control it (they like, they share, they criticize etc).
The content story – final reminder
Content is a long-term commitment and must be treated as such. More importantly, it has an even more lasting impact on your business. That's the story you have to tell and tell it well.
*This story originally appeared on grapefruit.ro
A Content Story for FOCS and Their Friends